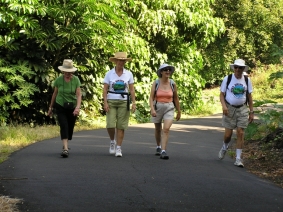 The Kona Hiking Club will hike Walua Road on Saturday, November 24. The hike is a fairly easy hike and will be about 6.5 miles round trip. The trail is paved over mostly level terrain with a gentle uphill elevation of 600'.
We will pass through neighborhoods where there will be some ocean and tropical landscape views, as well as some traffic. Each person should carry 1 liter of water, wear closed-toed shoes, sun protection and bring a lunch or snacks.
Hikers will meet at 8:30 a.m. at the trailhead. Directions: South on Hwy. 11 from Kailua Kona. Turn left on Lako Street (by the Chevron station, after MM 120). Look for the bike/walking path on right. For additional information, please phone Joan at 327-1529.
The group PATH (Peoples Advocacy for Trails Hawaii) will be hosting a "Kokua Walua Clean Up Day" beginning at 11:30 a.m. For those that wish to participate after the hike, bring gloves, rakes, hoes, weed-wackers, etc., and your community spirit! For more info regarding the cleanup, please email or call John at Johns88usc@yahoo.com or 937-4104.
PLEASE NOTE: All members are welcome to bring guests or pass on information about our hikes to other hikers. However, if you do so, PLEASE make sure that you direct them to this website to review the hike announcement and description. We want to make sure that everyone is prepared for the specific hike we are doing that day, whether we're facing mud, heat, cold, steep trails, rocky trails, high altitude, exceptionally long distances, etc. Mahalo for helping us keep everyone safe!