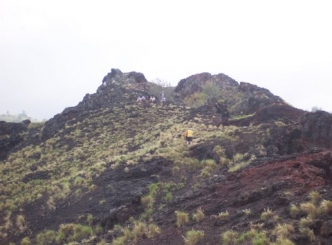 The Kona Hiking Club will hike to Puhi e Pele cinder cone from the Queen Ka'ahumanu Highway on Saturday, December 15. The hike will be a relatively difficult hike of 6.3 miles roundtrip, primarily on a lava/gravel jeep road. The first half of the hike consists of a 1,300′ elevation climb. The cinder cone may be climbed if desired, however the terrain is raw lava. There will be an opportunity to return via a lava flow containing caves and tubes but the terrain there is primarily rough lava as well. The hike will take 4 1/2 to 5 hours.
Hikers will meet at 8:30 a.m. at the trailhead which is located between mile markers 88 and 89 on the Queen Ka'ahumanu Highway. There is a parking area just below highway level on the mauka side of the highway, and we will depart from there. Hikers should be prepared for the possibility of sunny, hot weather with no shade.
Each person should carry a minimum of 2 quarts of water, wear a hat, hiking boots or closed-toed shoes, carry a hiking stick, use plenty of sunscreen and bring a snack or lunch.
Anyone wishing to carpool may meet at the Lanihau Shopping Center parking lot in the vicinity of Buns in the Sun at 7:30 a.m. and depart there by 7:45 a.m. Please park well away from the businesses. Carpoolers are encouraged to contribute toward the cost of gasoline.
Visitors and guests are invited and anyone choosing to attend should be provided with a copy of this hike description so they will know what to expect and be properly prepared. They should also be referred to this website for complete safety information.
If you have any questions, please call Alice at 322-6481.
PLEASE NOTE: All members are welcome to bring guests or pass on information about our hikes to other hikers. However, if you do so, PLEASE make sure that you direct them to the Kona Hiking Club website to review the hike announcement and description. We want to make sure that everyone is prepared for the specific hike we are doing that day, whether we're facing mud, heat, cold, steep trails, rocky trails, high altitude, exceptionally long distances, etc. Mahalo for helping us keep everyone safe!