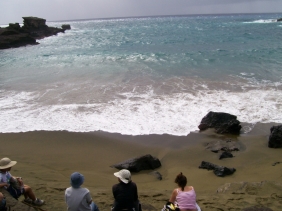 The Kona Hiking Club will hike to Green Sand Beach at South Point on Saturday, March 15. The hike will be about 5 miles round trip over mostly level terrain. Hikers should be prepared for both hot and/or windy conditions and possibly rain. There is no shade on the trail.
Each person should carry 2 liters of water. Also recommended are closed-toe shoes, sun protection, lunch, and a hiking stick. If ocean conditions permit, swimming may be an option at the lunch stop. However, there is no lifeguard.
Hikers will meet at 8:30 a.m. at the parking lot near the boat ramp. Driving south from Kailua, turn right on South Point Road (between mm 69 & 70). Follow road (guestimate) 7-8 miles until you come to a rough paved road veering left. Take left and follow road to the boat ramp parking area past the hut/store.
Participants desiring to carpool from Kailua-Kona may meet at 6:45 a.m. at Lanihau Center in the vicinity of Buns in the Sun, well away from the businesses. A hike leader will be present for carpooling, and hikers should depart no later than 7:00 a.m. Carpoolers are encouraged to chip-in for gasoline. For more information, call Alice at 322-6481.
PLEASE NOTE: All members are welcome to bring guests or pass on information about our hikes to other hikers. However, if you do so, PLEASE make sure that you direct them to this website to review the hike announcement and description. We want to make sure that everyone is prepared for the specific hike we are doing that day, whether we're facing mud, heat, cold, steep trails, rocky trails, high altitude, exceptionally long distances, etc. Mahalo for helping us keep everyone safe!