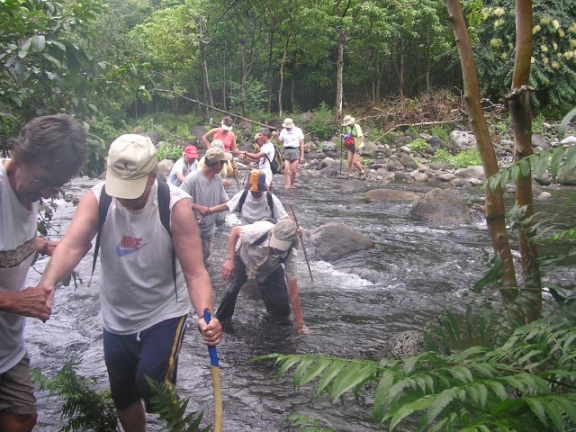 The Kona Hiking Club will hike Waipio Valley on Saturday, June 21. The hike will be a relatively easy one across the front of the valley floor, along a public trail and road on the far side of the valley to a scenic waterfall and pond area. The most difficult part of the hike will be crossing the river. The hike will be about two miles each way and take approximately 1-1/4 hr. each direction.
We will take a break at the pond and have a potluck lunch at the end of the hike.
Two side hikes are available to those who wish to do so. Hikers may climb a portion of the zigzag trail up the pali on the west side of the valley, and they may also make about a one-city-block trek across rocks and boulders to reach the waterfall on the east side of the valley. Warm sunny weather with a good deal of shade is anticipated, but rain is always a possibility.
Hikers will meet at 8:30 a.m. at the Scenic Overlook at the top of the valley. From there we will carpool to the valley floor in 4-wheel drive vehicles. Anyone willing to provide a 4WD vehicle will be appreciated and should contact Alice (322-6481) in advance.
Each hiker should carry a minimum of 2 liters of water, wear a hat and hiking boots, have water shoes, carry a hiking stick, use plenty of sunscreen, bring a dish for the potluck, and any snacks you may desire.
Anyone wishing to carpool may meet at the Lanihau Shopping Center in the vicinity of Buns in the Sun at 6:30 am to depart at 6:45 am. Please park well away from the businesses. Carpoolers are encouraged to contribute toward the cost of gasoline.
Visitors and guests are invited and anyone choosing to attend should be provided with a copy of this hike description so they will know what to expect and be properly prepared. They should also be referred to the Club's website, www.konahikingclub.com, for complete safety information.