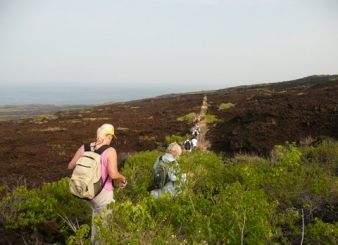 The Kona Hiking Club will hike down the Captain Cook Monument Road to the Old Government Road and head north, ending the hike at the end of Ali'i Highway near the Kuamo'o Battle Warriors Burial Ground on Saturday, July 19. This will be a one-way hike of approximately seven miles across mostly lava rock and dirt trails with shade only for a short distance at the beginning of the hike and the last mile or so. The first section is a steep downhill, but the remainder is relatively level. It will be necessary to limit the number of participants on this hike to 35 people, so please contact the hike leader listed below if you plan to attend.
The weather will most likely be warm with overcast skies due to the volcanic activity in the Puna area. Each hiker should carry 2 quarts of water, wear closed-toed shoes and sunscreen, and bring a snack or lunch. A hiking stick, and hat are also recommended.
We will meet at 7:45 a.m. at the trailhead located 1/10th of a mile south of Mamalahoa Highway on Napo'opo'o Road. Since parking there is extremely limited, it is recommended that everyone carpool who possibly can. If driving yourself, please take extreme care in parking and walking to the trailhead as Napo'opo'o Road is quite narrow and heavily traveled.
There will be two carpool locations for participants wishing to do so. Carpoolers may meet at the end of Ali'i Highway (Ali'i Drive continuation) at 6:45 a.m. to depart by 7:00 a.m. Another group will meet in the Kealakekua Ranch Center upper parking lot near Ace Hardware at 7:15 a.m. and depart by 7:30 a.m. Participants parking at the Ranch Center and the trailhead will be shuttled back to their vehicles, and volunteer drivers are requested to assist with the shuttling. A hike leader will be present at Ali'i Highway but may not be at the Shopping Center so please organize yourselves for the carpool there. While there is no charge for carpooling, participants are encouraged to contribute toward gasoline costs.
Visitors as well as residents are welcome to participate – there is no charge. For additional information, contact Alice at 322-6481.
PLEASE NOTE: All members are welcome to bring guests or pass on information about our hikes to other hikers. If you do so, PLEASE MAKE SURE that you direct them to this website to review the hike announcement and description. We want to make sure that everyone is prepared for the specific hike we are doing that day, whether we're facing mud, heat, cold, steep trails, rocky trails, high altitudes, exceptionally long distances, etc. Mahalo for helping us keep everyone safe!