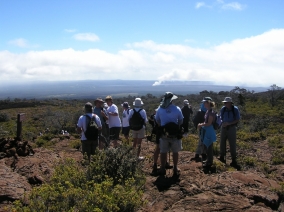 On Saturday, October 18, the Kona Hiking Club will hike the beginning section of the Mauna Loa Trail. We will meet at 9:00 a.m. at Namakani Paio campground, located outside of Kilauea National Park. Namakani Paio is on the mauka side of highway 11, approximately half way between mile markers 32 and 31. After entering on the marked campground access road, take the first left fork and park in the first open dirt area on the left. We will carpool from there to the Mauna Loa Trailhead/Lookout at 6,650 feet elevation (about 13 miles up the Mauna Loa Scenic Road), as parking is limited.
From the Lookout, the trail leads to the summit of Mauna Loa, of which we plan on hiking approximately 6 miles round trip. If the weather is clear, we will have views of Kilauea Crater, Halemaumau fire pit and the rest of the Volcano area. As we will be passing through some old native dry-land forest, we may see native forest birds.
Since we will be hiking at higher elevations (6,650 – 8,000) and there is less available oxygen encountered at high altitude – it is strongly advised that anyone with high blood pressure, heart or respiratory conditions not attempt this hike.
Temperatures at higher elevations can vary and be unpredictable. Hikers should be prepared for hot or cool weather and/or rain – layering clothes is advisable. Sturdy boots, a hat, rain jacket and hiking stick are recommended as well as sunscreen and sunglasses, as most of hike is exposed above the tree line. Two liters of drinking water plus a lunch is recommended. Drinking plenty of water keeps your body hydrated and helps to fend off the effects of altitude sickness. Binoculars for possible bird viewing are optional. No children or pets will be allowed.
Due to the ongoing eruption of Kilauea Volcano, air and vog conditions can be unpredictable. If air conditions are deemed critical the day of the hike, and if the Campground is closed, the Club will meet in the empty lot just south of the Kiawe Kitchen restaurant in the town of Volcano – an alternate hike will be chosen, most likely in the Kalapana area, away from the vog.
Visitors as well as residents are welcome to participate, and there is no charge. Kailua-area carpoolers should meet at 6:30 a.m. and leave by 6:45 a.m. from Lanihau Center. Please park well away from the businesses, in the corner of the parking lot near Buns in the Sun. Hike leaders may or may not be present at the carpool location. Carpoolers are encouraged to chip-in for gasoline. For additional information, please phone Joan at 327-1529.
PLEASE NOTE: All members are welcome to bring guests or pass on information about our hikes to other hikers. However, if you do so, PLEASE make sure that you direct them to this website to review the hike announcement and description. We want to make sure that everyone is prepared for the specific hike we are doing that day, whether we're facing mud, heat, cold, steep trails, rocky trails, high altitude, exceptionally long distances, etc. Mahalo for helping us keep everyone safe!