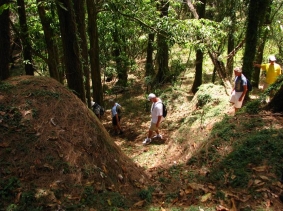 The Kona Hiking Club will walk the trails in Kalopa Native Forest Park and Forest Preserve on Saturday, November 15. The park, located at approximately 2,000 feet elevation on the Hamakua Coast, contains acres of mature native Hawaiian rain forest and various introduced species.
The hike is approximately 4 to 5 miles in length, with an elevation gain of about 600 feet. Visitors as well as residents are invited to participate. There is no charge, although carpoolers are encouraged to contribute toward gasoline costs. No pets are allowed.
Wet conditions and muddy, slippery trails are common here. Hikers should wear closed-toed shoes. A hiking stick and rain gear are also recommended. In addition, hikers should carry two quarts of water per person and trail snacks. Those wishing to do so, may leave a picnic lunch in the car to eat at the park pavilion after the hike.
The hike will start at Kalopa Park at 9:30 a.m. The park is located mauka of Highway 19, five miles southeast of Honoka'a. The turnoff to the park is marked, and is located between mile markers 39 and 40. ( Do not take the Kalopa Road turnoff between mile markers 42 and 43, as it takes longer and you may be late.)
Participants desiring to carpool from Kailua-Kona may meet at Lanihau Center, in the corner of the parking lot near Buns-In-The-Sun, but well away from the businesses. Carpoolers should arrive at 7:30 and depart by 7:45 a.m. Hike leaders may or may not be present at the carpool meeting point.
For additional information, please phone Ruby at 987-0200.
PLEASE NOTE: All members are welcome to bring guests or pass on information about our hikes to other hikers. However, if you do so, PLEASE make sure that you direct them to the Kona Hiking Club website to review the hike announcement and description. We want to make sure that everyone is prepared for the specific hike we are doing that day, whether we're facing mud, heat, cold, steep trails, rocky trails, high altitude, exceptionally long distances, etc. Mahalo for helping us keep everyone safe!