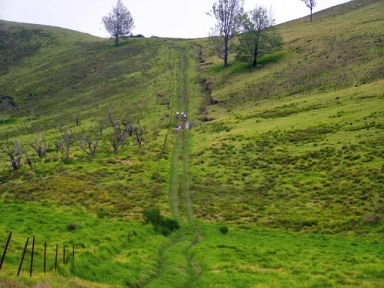 The Kona Hiking Club will hike to the top of the Pu'u Wa'awa'a (many-furrowed hill) cinder cone located on state Department of Land and Natural Resources property, on Saturday, May 16. This is a challenging hike.
From the summit on a clear day, a visitor may view a panorama of the ocean and five mountains. Informational markers are placed at points of interest along the trail, and a corresponding brochure may be provided. A DLNR coordinator for the area may be on hand to speak with our group regarding the area.
The trail is approximately 3.25 miles long and climbs 1,100 feet to the summit at 3,967 ft. for a total hike of 6.5 miles with a steep incline and decline. There are additional trails which may be included, so watch this website for more information prior to the hike.
The area is generally temperate at that elevation and has little shade, however, weather can vary and hikers should be prepared for rain as well as sun, carry at least two litres of water per person, wear closed-toed shoes, sun protection, and bring a snack or lunch. Hiking sticks are recommended as well.
Carpoolers will leave at 7:45 a.m. from the Lanihau Center in Kailua-Kona, in the vicinity of Buns in the Sun and should park well away from the businesses. Others may meet at 8:30 a.m. at the trailhead. The main gate is between the 21 and 22 mile markers on the mauka side of Mamalahoa Highway. After entering the main gate take the road to the left and park near the Hunter Check Station allowing space for additional vehicles.
If you have any questions, please phone Alice 322-6481.
PLEASE NOTE: All members are welcome to bring guests or pass on information about our hikes to other hikers. However, if you do so, PLEASE make sure that you direct them to the Kona Hiking Club website to review the hike announcement and description. We want to make sure that everyone is prepared for the specific hike we are doing that day, whether we're facing mud, heat, cold, steep trails, rocky trails, high altitude, exceptionally long distances, etc. Mahalo for helping us keep everyone safe!