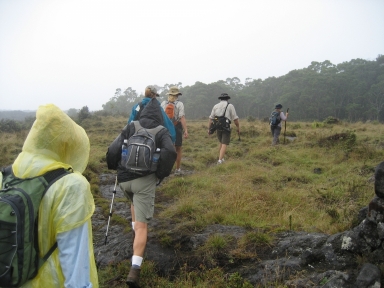 On Saturday, July 18, the Kona Hiking Club will hike Pu'u O'o Trail Horse & Foot Trail off Saddle Road. This long, moderately challenging hike will take approximately 6 hours. The hike is a total of about eight miles. The rocky trail is fairly level overall, with many short up and down segments as it travels through old pahoehoe and a'a lava fields, interspersed with forested kipuka. Wet, chilly, or foggy conditions may be encountered as the elevation is 5,800 feet.
Pu'u O'o Horse & Foot Trail is a historic cattle drive trail across the eastern saddle, just west of, and parallel to, Kulani Powerline Road. It begins at the eastern end of Kipuka 'Ainahou, and intersects Powerline Road after 4 miles in the last kipuka near the edge of the 1984 lava flow, before diverging again.. The trail crosses a wide variety of saddle habitats, in which you can find nearly every remaining species of the endemic forest bird on the island – only the palila is absent. We will be entering a hunting area – it is important to stay on the road/trail and dress appropriately in bright, colorful clothes.
Kailua-area carpoolers may meet at 7:15 a.m. and promptly at 7:30 a.m. from Lanihau Center. A hike leader will be present. Please park well away from the businesses, in the corner of the parking lot near Buns in the Sun. The hike will start at 9 a.m. at the Pu'u O'o trailhead, located between mile markers 22 and 23 on the Saddle Road. The gravel parking area is right on the edge of Saddle Road near the 22.5 mile point, and is marked with the signs shown here. Visitors as well as residents are welcome to participate. There is no charge, but carpoolers are encouraged to contribute toward gasoline costs.
Hikers should wear colorful attire and hiking boots. Bring water (2 quarts), sun protection, rain jacket, and lunch or snacks. You may also want to bring binoculars for possible bird viewing, and hiking sticks.
For additional information, please phone Kathleen at 557-9246.
T-SHIRT UPDATE:
We are planning on ordering more Kona Hiking Club T-shirts late July or August. It helps keep the cost down for everyone if we order in a larger quantity. So, if you would like to order a shirt, please reply by return email to konahikers@hotmail.com. Indicate men's or women's, what sizes, and how many. We don't need payment at this time, since we're not even sure there is enough interest to place an order. We'll keep you posted!
PLEASE NOTE: All members are welcome to bring guests or pass on information about our hikes to other hikers. However, if you do so, PLEASE make sure that you direct them to the Kona Hiking Club website to review the hike announcement and description. We want to make sure that everyone is prepared for the specific hike we are doing that day, whether we're facing mud, heat, cold, steep trails, rocky trails, high altitude, exceptionally long distances, etc. Mahalo for helping us keep everyone safe!