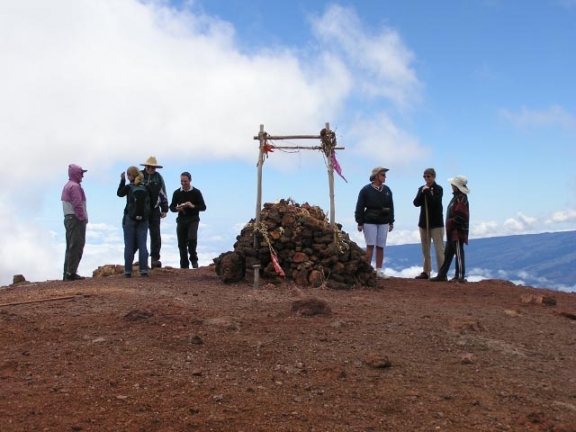 The Kona Hiking Club will be hiking on Mauna Kea on August 15 and August 22, 2009, due to the DLNR Natural Preserve Area Management restricting the size of each group to 20 hikers.
We now have a firm group hike approval from the Mauna Kea Visitor Information Station and from DLNR.
We will be hiking at elevations between 10,000' and 13,796'; therefore, when calling to make a reservation you will be supplied with the recommended restrictions and requirements for hikingat high elevations. We sincerely hope that anyone unable to satisfy these requirements will not make a reservation leaving the openings available for other eligible people desiring to make the hike.
Carpoolers should meet at 7:30am at Lanihau Shopping Center parking lot in Kailua-Kona near Buns in the Sun on Saturday, August 15, and again on Saturday, August 22, 2009. From there we will depart at 7:45am. It will take approximately 1-1/2 to 1-3/4 hrs. to reach the Visitor Center on Mauna Kea, so we should arrive there between 9:15 to 9:30am. Anyone not wishing to carpool should be at the Visitor Center by that time.
Approximately 45 minutes will be spent at the Visitor Center to acclimate to the altitude before proceeding to the summit by car. Anyone feeling any adverse effects of the altitude at this time should not proceed but leave the mountain immediately. Hikers must also remember that DLNR requires the group stay together, so fast hikers may have to slow their pace to accomplish this.
One vehicle will be left at Parking Lot 1 and another at Parking Lot 2 enroute to the summit. Upon reaching the upper observatory parking lot, we will hike out to the summit and back. There is a short steep downhill and then a longer steep uphill trail to the actual summit. The round trip can be done in 30 to 45 minutes, but we will not be on any special schedule. It is recommended that everyone hike at a slower than usual pace.
We will then drive to the lower observatory Parking Lot 3, and follow the Humu'u Ula Trail (Mauna Kea Trail) out to Lake Wai'au at the 13,200' elevation where there will also be an uphill climb and then down to the lake. Upon leaving the lake, we will continue down the trail to the point closest to Parking Lot 1, our final destination. Drivers will be ferried back to the upper Parking Lots. The hiking surface in all areas is primarily loose, small a'a lava and gravel.
Due to the limited number of participants, please phone Alice Walker at 322-6481 or 938-1491
to make a reservation if you wish to attend, keeping in mind that those with 4WD vehicles will be given preference. Should you get the answering machine, please be sure to state the date and time of your call as Alice will be taking reservations on a first-come, first-serve basis.
All hikers should be prepared for windy and cool weather, with temperatures possibly being in the 40s. Bring at least two litres of water per person, wear closed-toe shoes or hiking boots, sun protection and a snack or lunch. A hiking stick is also recommended.