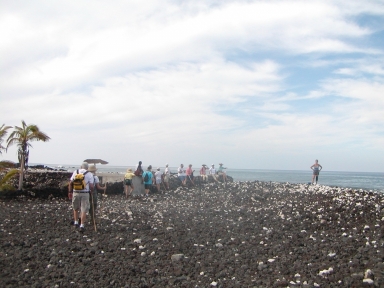 On Saturday, November 21, 2009, the Kona Hiking Club will hike the Ala Kahakai Trail from the Anaeho'omalu Bay area to Keaweiki Bay and return along the shoreline. We will be walking on bare lava and some rough lava foot trails. There will be no shade along this four to five mile hike. It will take about four and one half to five hours. The route includes some ancient ruins as well as two brackish ponds. It has been some time since the group has hiked this route, so it may be something new and different for many folks. The hike will end at Anaeho'omalu Bay where we can lunch and also swim if desired.
All hikers should be prepared for sunny weather although clouds and rain may also be anticipated at times along the coast. Bring at least two litres of water per person, wear closed-toe shoes or hiking boots, sun protection and a snack or lunch. A hiking stick is preferable.
We will meet in the parking lot at Anaeho'omalu Bay Beach Park at 8:30 am and begin the hike from there. Those wishing to carpool should meet at Lanihau Center in Kailua-Kona near Buns in the Sun at 7:30 am to depart by 7:45 am. While there is no charge for carpooling, participants should contribute toward the cost of gasoline.
For further information, contact Alice at 322-6481.
PLEASE NOTE: All members are welcome to bring guests or pass on this information about our hikes to other people who may be interested in joining us. If you do so, please direct them to this website to review the hike announcement and description. We want to make sure that everyone is prepared for the specific hike we are doing that day, which may include conditions such as mud, heat, cold, steep trails, rocky trails, high altitude, exceptionally long distances, etc. Mahalo for helping us keep everyone safe!