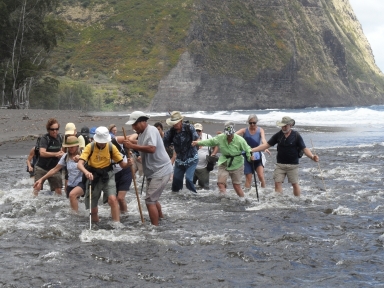 On MONDAY, June 21, 2010, we will be hiking the Waipio Valley floor, and the number of hikers will be limited to 25! A Waipio Valley resident has very kindly agreed to host and guide us on an approximately four-mile tour of the valley including the base of a waterfall. This will be a relatively easy hike on mostly flat terrain, dirt roads and trails and should last about two to three hours. Since the majority of the property in Waipio Valley is privately owned, this is a special opportunity for KHC folks to see areas usually off limits to the public.
Since, we will be hiking primarily on private property, it is imperative that the group stay together.
We will be crossing the river as well as several rocky bottomed creeks, so water shoes would be helpful.
Each hiker must bring at least 2 litres of water and snacks or lunch. A hat, sunscreen, boots or closed-toed shoes are also highly recommended as well as a hiking stick.
Hikers will meet at the Waipio Valley Visitors Overlook at 8am and travel in 4WD vehicles to the valley floor to begin the hike by 9am. Anyone able to provide a 4WD vehicle, please do so and advise the hike leader accordingly. You will be given preference as we are limited to 25 hikers. All-wheel drive vehicles will not be allowed down the road to the valley floor.
Visitors as well as residents are invited to participate. Those wishing to carpool may meet at the Lanihou Shopping Center near Buns in the Sun at 6:30 am and depart there by 6:45 am. There is no charge, but carpoolers are encouraged to contribute toward gasoline costs.
To sign up for the hike, please phone Alice at 322-6481.