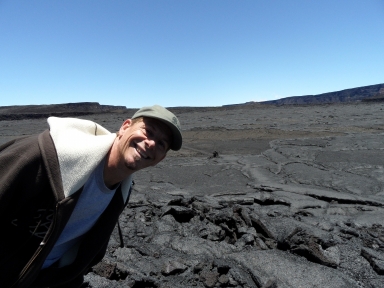 The Kona Hiking Club will be hiking to the North Pit, the northern most edge of the summit crater of Mauna Loa at over 13,000' on Saturday, July 17, 2010. We will travel by car to the Mauna Loa Weather Observatory located just above the 11,000' level, spend one-half hour acclimatizing, then hike on a 4WD road to a point where it intersects the lava rock trail to our destination. We will take the trail for the return trip. The entire hike will take a minimum of seven hours. It is not planned that we will reach the actual summit, as that would add approximately two hours to the hike.
Here are a couple of internet links describing hikes on Mauna Loa:
http://www.instanthawaii.com/cgi-bin/hawaii?Hikes.loa
http://www.kinquest.com/misc/travel/trailguide.php
Please keep in mind that weather conditions can change rapidly on the mountain, and we may expect to encounter sunny clear skies to cold, dense fog and rain. Temperatures may be as low as 40 degrees. All of the same precautions apply to this hike as applied to the Mauna Kea hike last year as follows:
Apply sunscreen, wear sunglasses and protective clothing. Wrap around glasses are preferable due to wind, and layered clothing and long pants should be worn as temperatures can be as low as 40 degrees. Must bring 2 liters of water. Hiking sticks are recommended. Good sturdy hiking boots are a must. Bring a lunch and/or snacks.
No one with high blood pressure, heart or respiratory problems should attempt the hike.
Pregnant women should not participate.
Individuals in poor physical condition should not participate.
Children under the age of 16 will not be allowed to participate.
Do not drink alcohol prior to or during the hike.
Please be considerate and not participate if any of these conditions apply to you!
It is important to remember that the elevations at which we will be hiking can bring on altitude sickness including headaches, drowsiness, loss of balance, nausea, impaired reason and an altered mental state. Should any of these occur, it is imperative you notify the hike leader immediately and return down the mountain.
For those people wishing to carpool, meet at Lanihau Center near Buns in the Sun at 6am and depart by 6:15am. We will take Saddle Road and meet at the Mauna Loa Observatory Access Road, just east of Pu'u Huluhulu and the Mauna Kea Access Rd., at 8am, then caravan to the Observatory. This 17-mile road will take about 45 minutes, so with the half hour to acclimatize, we should begin hiking by 9:15 or 9:30am. There is no charge for carpooling, but carpoolers are encouraged to contribute toward gasoline costs.
All members are welcome to bring guests, however, if you do so, please make sure that you direct them to the Kona Hiking Club website to review the hike announcement and description. We want to be sure that everyone is prepare for the specific we are doing that day, whether we're facing mud, heat, cold, steep trails, rocky trails, high altitude, exceptionally long distances, etc. Mahalo for helping us keep everyone safe.
For additional information, please phone Alice at 322-6481 or 938-1491.