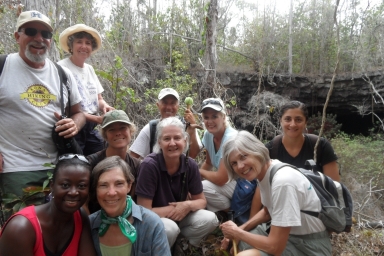 The Kona Hiking Club will visit the Manuka State Park on Saturday, August 21. The park is 32 miles south of Kona between the 81 and 82 mile markers. The Manuka Natural Area Reserve covers 25,000 acres on the southwestern slope of Mauna Loa.
The name Manuka means "blundering" in the Hawaiian Language and was the name of the ancient land division ahupua`a that ran from a bay on the southwest side of the island up the slopes of the Mauna Loa volcano. The arboretum of 8 acres was originally planted in the mid 1800s with native and introduced plants. It now contains 48 species of native Hawaiian plants and more than 130 species of other exotic plants and flowers, and is surrounded by the 25,000-acre Manuka Forest Reserve.
A 2 mile Nature Trail loop will be the regular hike, with the more adventuresome hikers going an additional 3 mile loop exploring to find several large pit craters. The hikers going on the longer hike should carry extra water. This can be a strenuous hike due to the altitude and humidity and uneven footing. Good hiking shoes are required as the trails are very rocky in several places.
Although it's been dry lately, be prepared for rain and mosquitoes. There is ample shade with some open sunny areas. Participants must carry at least two liters of water per person. Closed-toed shoes, sun protection, lunch or snack, and hiking sticks are also recommended.
Visitors as well as residents are invited to participate in this hike. There is no charge, although carpoolers are encouraged to chip-in for gasoline.
Carpoolers will meet at 7:45 a.m. and leave at 8:00 a.m. from Lanihau Center. Please park well away from the businesses, in the corner of the parking lot near Buns in the Sun. Others may meet at Manuka State Park at 9:20 a.m.
For more information, please call Kathleen at 557-9246.
PLEASE NOTE: All members are welcome to bring guests or pass on information about our hikes to other hikers. However, if you do so, PLEASE make sure that you direct them to the Kona Hiking Club website to review the hike announcement and description. We want to make sure that everyone is prepared for the specific hike we are doing that day, whether we're facing mud, heat, cold, steep trails, rocky trails, high altitude, exceptionally long distances, etc. Mahalo for helping us keep everyone safe!