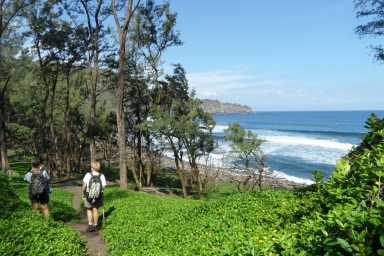 For our November hike, the Kona Hiking Club will hike the Pololu ("long spear") Valley Awini Trail on Saturday, November 20.

We will meet at 8:15 a.m. at the parking area in North Kohala where Hwy 270 ends and Pololu Valley begins. Be prepared for a possible wet, sloppy trail going up the ridge from Pololu (if it has been raining). Dress appropriately: hiking boots/shoes that you don't mind getting wet are highly recommended, sun protection, rain gear, lunch/snacks, water (2 liters plus), and hiking stick(s) will greatly aid you on this multi-valley hike with loose stones on the downhill sections. It may be wise to leave a set of dry clothes/shoes in the car for after the hike.
This hike is a difficult 4 to 5-plus-mile hike (round trip) with the following elevation changes: begin at 410′, descend to Pololu Valley floor, and then hike uphill 625′ to the Honokane Nui rim. Only those extremely fit hikers who can handle climbing down and up a series of near vertical ropes can then descend to Honokane Nui Valley floor, hike uphill 450′, descend to Honokane Iki Valley floor, and then return via the same route. This part of the hike led by a volunteer leader is not part of the official Kona Hiking Club hike. Gloves are required and long pants recommended. The extended hike may take 7-8 hours (~ 4 hours for the short version). Those hikers not doing the extended hike will return to Pololu Valley where we will have lunch and then return to our cars.
We will experience some spectacular views, boulder black sand beaches, possible ruins, bamboo and stream(s). As this is a challenging "all-day hike", please be sure you are prepared physically and bring adequate provisions.
Participants desiring to carpool from Kailua-Kona may meet at 6:00 a.m. at Lanihau Center in Kailua-Kona, in the vicinity of Buns in the Sun and should park well away from the businesses. Carpoolers can organize themselves there and should depart no later than 6:15 a.m.
Visitors as well as residents are invited to participate in this hike. There is no charge, although carpoolers are encouraged to chip-in for gasoline.
If you have any questions, please phone Kathleen 557-9246.