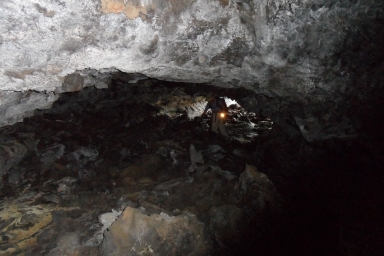 The Kona Hiking Club will hike over and through the lava tubes north of the Keahole Kona Airport on Saturday, May 21, 2011. This area has some very unique lava formations. You'll never drive past the area again and only see a "boring" field of lava. The hike will be less than 2 miles in length (round trip) over some occasionally rough, but moderate elevation terrain across a lava field. It's important to wear closed toe shoes, hat, gloves, long sleeve shirt and long pants for crawling through the smaller openings. There is the option of only hiking part way in or just viewing from above. Flashlight or headlamp is needed for exploring the deeper recesses of the lava caves.
Kona Hiking Club explores Hu`ehu`e Lava Tubes
Much of the airport runway is built on a relatively recent lava flow: the 1801 Huʻehuʻe flow from Hualalai. This flow extended the shoreline out an estimated 1 mile, adding some 1.5 sq miles of land to the island and creating Keahole Point. Eighteen lava tubes were filled in to create the airport.
For more information, Google "lava tubes near Keahole airport".
http://www.soest.hawaii.edu/GG/HCV/hualalai.html
http://en.wikipedia.org/wiki/Hual%C4%81lai
Hikers should be prepared for very hot conditions. Each person must carry at least 2 liters of water. Also recommended is sun protection, snack, and a hiking stick.
Visitors as well as residents are invited to participate in this outing. There is no charge, although carpoolers are encouraged to chip-in for gasoline. Participants desiring to carpool from Kailua-Kona may meet at 7:00 a.m. at Lanihau Center, in the vicinity of Buns in the Sun, but well away from the businesses. Carpoolers will organize themselves here and should depart no later than 7:15 a.m. It's possible that one hike leader will be at the carpool location. Others may meet at the lava tube just past the 91 mile marker on the mauka side of Queen Kaahumanu Highway at 7:30 a.m. For more information, call Kathleen at 557-9246.
NOTE: For those wishing to extend their adventure for the day with a picnic or walk along the beach, the road to Mahaiula and Kaelehuluhulu Beaches at Kekaha Kai State Park is just north of the lava tubes. Don't forget your swim gear, towel, snorkel, reef shoes, etc. 🙂
PLEASE NOTE: All members are welcome to bring guests or pass on information about our hikes to other hikers. However, if you do so, PLEASE make sure that you direct them to the Kona Hiking Club website to review the hike announcement and description. We want to make sure that everyone is prepared for the specific hike we are doing that day, whether we're facing mud, heat, cold, steep trails, rocky trails, high altitude, exceptionally long distances, etc. Mahalo for helping us keep everyone safe!