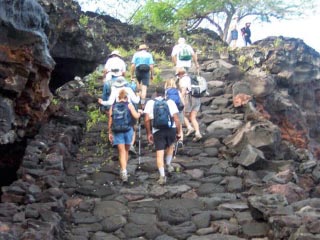 On Saturday, May 19, the Kona Hiking Club will hike the area between Honaunau and Ho'okena. We will meet at 7:45 a.m. at the parking lot for Pu'u Honua 'o Honaunau ("Place of Refuge") National Historic Park. Park at the mauka end of the lot, as far away as possible from the visitor center. Bring your National Park Pass if you have one, as entry fees may be charged.
The trail between Honaunau and Ho'okena is currently in the process of restoration, so the exact hike route will be announced that morning. We may shuttle some cars to Ho'okena and hike the entire shoreline one way, or we may do an "out and back" hike south from Honaunau. In either case, the distance should be about three to six miles. The route is level overall, and parts of the trail are improved and maintained. However, we will also be walking over rough natural lava.
Hikers should be prepared for very hot conditions and little or no shade. Each person must carry at least 2 liters of water (no exceptions). Also recommended are sturdy boots, sun protection, lunch, and a hiking stick. As with all Kona Hiking Club hikes held in odd-numbered months, this hike may be somewhat exploratory in nature and is intended for experienced hikers who are prepared for Kona's heat.
You might want to plan for staying after the hike and to have a picnic or go snorkeling.
Visitors as well as residents are welcome to participate, and there is no charge. Kailua-area carpoolers should meet at 6:45 a.m. and leave by 7:00 a.m. from Keauhou Shoppping Center. Please park well away from the businesses, in the makai corner of the lot across from Longs Drugs. A hike leader (Alice @ 938-1491) will be present at the carpool location. Carpoolers are encouraged to contribute toward gasoline costs.
If you have any questions, please call Kathleen at 557-9246
PLEASE NOTE: All members are welcome to bring guests or pass on information about our hikes to other hikers. However, if you do so, PLEASE make sure that you direct them to the Kona Hiking Club website to review the hike announcement and description. We want to make sure that everyone is prepared for the specific hike we are doing that day, whether we're facing mud, heat, cold, steep trails, rocky trails, high altitude, exceptionally long distances, etc. Mahalo for helping us keep everyone safe!