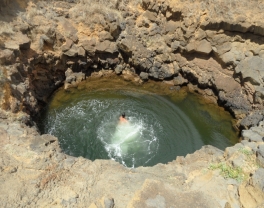 The Kona Hiking Club will visit the South Point area of Ka Lae on Saturday, July 21. The hike will be about 3 miles round trip, over mostly level terrain. Come learn some history of Ka`u and view Lua O Palahemu said of it that "If you haven't seen Lua O Palahemu you haven't seen Ka`u."
Visitors as well as residents are invited to participate. There is no charge, although carpoolers are encouraged to chip-in for gasoline. No pets are allowed.
The area is often hot and windy, and there is no shade along this trail. Participants must carry at least two liters of water per person. Closed-toed shoes, sun protection, lunch or snack, and a hiking stick are also recommended. If ocean conditions permit, for those adventurous cliff divers diving may be possible at the lunch stop.
Carpoolers may meet at 7:15 a.m. at Keauhou Shopping Center, in the vicinity of Long's Drugs. Please park well away from the businesses makai of Long's Drugs. A second meeting point will be at Manuka State Park at 8:30 a.m. It is located one hour south of Kailua-Kona, on the mauka side of the highway between the 81 and 82 mile markers.
For more information, please phone Kathleen at 557-9246.
PLEASE NOTE: All members are welcome to bring guests or pass on information about our hikes to other hikers. However, if you do so, PLEASE make sure that you direct them to the Kona Hiking Club website to review the hike announcement and description. We want to make sure that everyone is prepared for the specific hike we are doing that day, whether we're facing mud, heat, cold, steep trails, rocky trails, high altitude, exceptionally long distances, etc. Mahalo for helping us keep everyone safe!