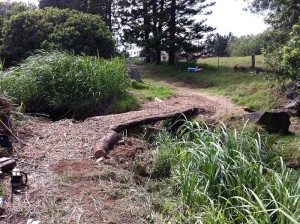 We will start our hike at Waimea Nature Park and continue from the park through and along the Waimea Trail and Greenway. From there those who wish may join us for an additional hike on the trail at Anna Ranch for a total round trip of about 4 miles. We will end the hike back at the Nature Park where we can enjoy our lunches.
Waimea Nature Park "Ulu La`au" is a nature preserve located on 10 acres in the heart of the town of Waimea. Ulu La`au, which means "a garden of trees," was first documented in 1830 as the name for this area. The seasonal Waikoloa Stream runs through the park. The purpose is to provide an area for peaceful public recreation as well as a place where residents and visitors can learn about the native plants of Hawaii. The park is a long-term community project of the Waimea Outdoor Circle.
For more information about The Waimea Trails and Greenways project: http://waimeatrails.org/index.html
We will have a fellow hiker, Alice Jenkins, along on our hike that is very knowledgeable about this area.
The area is generally temperate with some shade, however, weather can vary and hikers should be prepared for rain as well as sun, carry at least two liters of water per person. SPECIAL NOTE: We will have to cross a small stream which may be flowing enough to need to change to appropriate water shoes. Please bring appropriate footwear for the crossing as well as the dryland hiking which is a relatively easy hiking surface. Remember to bring sun protection and a snack or lunch. We will have our lunch/snack break at the Nature Park. Hiking sticks may be useful for the short stream crossing.
Carpoolers will meet at 7:15 and leave at 7:30 a.m. from the Lanihau Center in Kailua-Kona, in the vicinity of Buns in the Sun and should park well away from the businesses. Carpoolers are requested to contribute for gasoline costs. Others may meet at 8:30 a.m. at Waimea Nature Park located at Ahuli Circle two streets before the Hwy 19 intersection with Hwy 190. The main gate is past the Canada-France Observatory office.
If you have any questions, please phone Kathleen 557-9246.
PLEASE NOTE: All members are welcome to bring guests or pass on information about our hikes to other hikers. However, if you do so, PLEASE make sure that you direct them to the Kona Hiking Club website to review the hike announcement and description. We want to make sure that everyone is prepared for the specific hike we are doing that day, whether we're facing mud, heat, cold, steep trails, rocky trails, high altitude, exceptionally long distances, etc. Mahalo for helping us keep everyone safe!