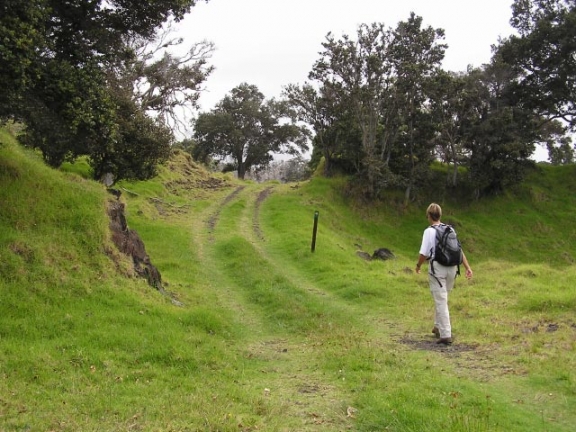 On Saturday, June 15, 2013 the Kona Hiking Club will visit the Kahuku Unit of Hawaii Volcanoes National Park.
"Palm Trail Hike" is an easy 2.6 mile, loop traversing scenic pasture along an ancient cinder cone, with highlights that include relics of the ranching era, sections of remnant native forest and fascinating volcanic features from the 1868 eruptive fissures.
An additional Forested Pit Crater Loop hike about 2.5 mi. in length will be offered if enough 4WD or AWD vehicles are available. The trail follows grassy (sometimes deep) pastureland roads lined some native plants with a gradual 400' elevation increase. A 4WD is recommended for driving the 6 mile road from the main gate to the trailhead although AWD does very well as well as higher clearance cars with good tires.The highlight of the Forested Pit Crater Loop hike is the very deep pit crater that is home to the Amakihi and Apapane native birds.
Here are some links to help you with your enjoyment of this newer unit of HVNP:
http://www.bigislandguru.com/hvnp-section-7-kahuka-unit.html
http://www.nps.gov/havo/planyourvisit/upload/Kahuku-Forest-Trail-Guide.pdf
We will have our lunch/snack break at along the trail. Hikers need to be prepared for potentially warm, sunny weather and/or rainy weather. Wear closed-toed shoes, bring hiking sticks, binoculars, sun protection, lunch or snack and at least two liters of water per person.
We will meet at 9:00 AM at the Kahuku gate at Kahuku Rd (mauka) located between 71mm & 70mm and park near the restroom. There Palm Trailhead is accessible by 2WD vehicles.
Those wishing to carpool from Kailua-Kona will meet at 7:30 a.m. at Keauhou Shopping Center in Keauhou across from Long's and depart no later than 7:45 a.m. Please park well away from the businesses. Visitors as well as residents are welcome to participate — there is no charge. Carpoolers are encouraged to contribute toward gasoline costs. For additional information, please phone Kathleen at 557-9246.
PLEASE NOTE: All members are welcome to bring guests or pass on information about our hikes to other hikers. However, if you do so, PLEASE make sure that you direct them to http://konahikingclub.com to review the hike announcement and description. We want to make sure that everyone is prepared for the specific hike we are doing that day, whether we're facing mud, heat, cold, steep trails, rocky trails, high altitude, exceptionally long distances, etc. Mahalo for helping us keep everyone safe!