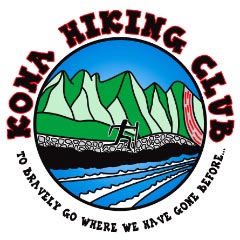 Mission: To offer residents and visitors the opportunity to enjoy the diverse beauty of our island and gain a deeper appreciation of its culture through hiking.
What we do
The Kona Hiking Club is a volunteer-led group. We have no dues, officers, nor meetings. However, donations are appreciated to help with the upkeep of the website and other club expenses.  All you need do is "show up"  unless the posted hike specially asks for an RSVP.  There is no charge to participate, but those who carpool are encouraged to contribute for gasoline.
Every attempt is made to schedule one hike every month at the ability of the majority of the hikers. Normally, we hike on the third Saturday. These hikes are advertised on this website and sometimes in West Hawaii Today (approximately one week in advance). Although they are open to everyone, most of our hikes are usually not suitable for children. Pets are prohibited.
Some hikes may limit the amount of hikers to RSVP only due to less familiar, tougher, hotter, longer and special permission access and may be on different days of the week. These hikes are publicized through this website only. We expect that all participants in these hikes are experienced, well-conditioned, properly equipped hikers who will take full responsibility for themselves.
Currently, hikes are planned and led by Kathleen Johnson. We welcome and encourage members who are willing to lead a hike. If you have a hike that you know well and would like to share, let us know.
*Safety
Hiking conditions in Hawai'i can be extremely challenging. It is very important that our hikers are aware of hike location, trail conditions and possible weather changes as noted in the hike description prior to hiking.
Hikers are welcome to bring guests or pass on information about our hikes to others. However, if you do so, please make sure that you direct them to the Kona Hiking Club website to review the hike announcement and description. Mahalo for helping us keep everyone safe!
*Prior to each hike, all participants are required to sign the following waiver:
"I understand that the areas that the Kona Hiking Club will be visiting today can be dangerous on account of natural conditions or the activities or negligence of man. I realize that the hike organizers are untrained volunteers, and have no expertise in navigation, first aid, rescue, or dealing with emergency situations, beyond that of the average hiker. Therefore, I assume full responsibility for my own safety. I acknowledge that the hike organizers, property owners, and lessees are not liable should I sustain injury, death, or property damage, whether caused by gross negligence or accident."