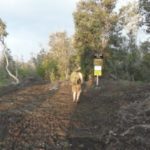 Saturday, September 21, 2013, the Kona Hiking Club will hike through Manuka Natural Area Reserve on Mauna Loa to a scenic ocean view.The hike on the Kaheawai traditional 12 mile round trip trail to the coast will be about 6 miles round trip total with an elevation change of about 1000'. Starting elevation is 1900′. The surface is relatively good, but rocky. Hike is moderate with a workout on the uphill return.
Meet at Manuka State Wayside Park parking lot at 8:30 a.m. Driving time approx 1 hour from Kailua Kona
We will carpool from Manuka State Wayside Park then head south 2/10ths mile past mm80 and park on makai side of road close to trail head. This is a well marked trail: gradual down hill going, uphill return. The hike is through Ohia trees along a large gulch almost the entire way. About 1 hour into hike, we'll come upon a view point of ocean and coast line where we can view the distant pu`us. Guestimated distance: 3 miles each way. Return to cars about 12:30 p.m. Prepare to return to Manuka State Park for our lunch break.
DLNR's NARS team is working in this area to control high priority invasive species and to restore native species.
Here's a video of a hike done on this trail:

Kona carpoolers can meet at Keauhou Shopping Center on the makai side of Longs Drugs. Please park away from the businesses. While there is no charge for carpooling, anyone doing so is encouraged to chip in for gasoline. A hike leader may or may not be present at this location. Be prepared to organize your own carpool by 7:15
and leave by 7:30 AM.
The weather is somewhat unpredictable, so be prepared for rain, although hot, sunny weather is probable with hopefully some cloud cover. Hikers should wear closed toed shoes, carry hiking sticks and bring at least two liters of water, snacks/lunch, and sunscreen.
For more info contact Kathleen Johnson at 557-9246.
PLEASE NOTE: All members are welcome to bring guests or pass on information about our hikes to other hikers. However, if you do so, PLEASE make sure that you direct them to the Kona Hiking Club website to review the hike announcement and description. We want to make sure that everyone is prepared for the specific hike we are doing that day, whether we're facing mud, heat, cold, steep trails, rocky trails, high altitude, exceptionally long distances, etc. Mahalo for helping us keep everyone safe!
*Prior to each hike, all participants are required to sign the following waiver:
"I understand that the areas that the Kona Hiking Club will be visiting today can be dangerous on account of natural conditions or the activities or negligence of man. I realize that the hike organizers are untrained volunteers, and have no expertise in navigation, first aid, rescue, or dealing with emergency situations, beyond that of the average hiker. Therefore, I assume full responsibility for my own safety. I acknowledge that the hike organizers, property owners, and lessees are not liable should I sustain injury, death, or property damage, whether caused by gross negligence or accident."