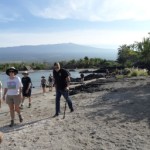 Kona Hiking Club will visit historic sites at Kaloko- Honokohau National Historic Park on Saturday, May 16. There are many interesting things to see including heiaus, house sites, a small ritual slide, fish ponds and a queen's bath. Total RT walking distance is about 2.5 miles from the north end of Honokohau Harbor to the Kaloko Fishpond and back. There will be an opportunity for swimming and a picnic lunch.
Here are very informative and interesting NPS links. Please take the time to check it out and gain an understanding of how special this place is and why it is being preserved.
http://www.nps.gov/kaho/
http://www.nps.gov/kaho/planyourvisit/loader.cfm?csModule=security/getfile&PageID=124426
As the site states: The reason why the Hawaiians chose to settle here was, perhaps, a spiritual one, for there was a spirit. The Hawaiians felt its presence in every rock and tree, in the water and in the winds. Perhaps you too will experience this spirit on your visit to this National Historical Park.
Visitors as well as residents are invited to participate in this outing.
Participants should wear suitable shoes, hats, carry plenty of drinking water, a picnic lunch/snack, and swim gear. This can be a sunny, hot hike so be sure to use sunscreen/sun protection.
Carpoolers will leave at 8:30 a.m. from the Lanihau Center in Kailua-Kona, in the vicinity of Buns in the Sun and should park well away from the businesses. There is no charge, but riders are encouraged to chip in for gas. Others may meet at 8:45 a.m. at the north side of the harbor across from Bite Me Fishing Restaurant.
If you have any questions, please phone Kathleen @ 557-9246
PLEASE NOTE: All members are welcome to bring guests or pass on information about our hikes to other hikers. However, if you do so, PLEASE make sure that you direct them to the Kona Hiking Club website to review the hike announcement and description. We want to make sure that everyone is prepared for the specific hike we are doing that day, whether we're facing mud, heat, cold, steep trails, rocky trails, high altitude, exceptionally long distances, etc. We typically hike rain or shine. However, if weather is severe, check the website for updates. Mahalo for helping us keep everyone safe!