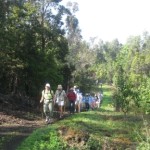 Saturday, April 15, 2017, the Kona Hiking Club will hike through Honuaula Forest Reserve Makaula O'oma Tract, a beautiful upland rainforest on Hualalai Mountain in Kaloko. The region is accessed via Kaloko Drive.
The hike will be about 4 miles total with an elevation change of about 750 '. The surface is relatively good with some loose rocks and tree roots. The hike starts at Makahi Street, goes through Honuaula Forest Reserve and returns via "Jurassic Park Trail" to Makahi Street. This forest area does look much like something from the Jurassic times with its various ferns and other native vegetation. The occasional forest clouds rolling through and the singing birds make this a very special place.
Much restoration work has been done in this mesic forest by Tree Hawaii, Bike Works and volunteers to plant native trees and remove invasive species.
Hikers should meet at 7:30 am at the Makahi Street Trailhead off Kaloko Dr. Although, there is a sizeable parking area, carpooling is recommended. Carpoolers can meet at the south side parking lot of Lanihau Shopping Center past Dairy Queen. Please park away from the businesses. While there is no charge for carpooling, anyone doing so is encouraged to chip in for gasoline. A hike leader may or may not be at this location. Be prepared to organize your own carpool and leave by 7:10 am.
The weather on the mountain is somewhat unpredictable, so be prepared for rain, although sunny weather is possible as well. Hikers should wear closed toed shoes, carry hiking sticks and bring at least two liters of water, snacks, and sunscreen.
For additional information, contact Kathleen Johnson at 557-9246.
or email: konahikingclub@gmail.com
PLEASE NOTE: All members are welcome to bring guests or pass on information about our hikes to other hikers. However, if you do so, PLEASE make sure that you direct them to the Kona Hiking Club website to review the hike announcement and description. We want to make sure that everyone is prepared for the specific hike we are doing that day, whether we're facing mud, heat, cold, steep trails, rocky trails, high altitude, exceptionally long distances, etc. Mahalo for helping us keep everyone safe!