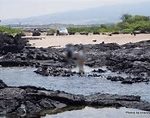 Aloha! All past, present, and potential future hikers, spouses, etc. are invited to attend the Kona Hiking Club's annual New Year's Day potluck brunch/hike. Bring your favorite dishes and beverages.
Wawaloli Beach Park is located just south of Kona's Keahole Airport. It is part of the Natural Energy Laboratory of Hawaii Authority (NELHA), a state agency that operates a unique and innovative ocean science and technology park. There are tide pools protected from the ocean waves that are great for keiki (children). The site has bathrooms and outdoor shower. There are numerous picnic benches dotted throughout the park. The north side of the park has walking trails lined with white coral. The park has lots of sandy areas, but not a sandy beach.
One of our hikers will be sharing the history of the area.
We look forward to seeing old friends and making new ones.
WHEN/WHERE:
Monday , 1/1/18 at NELHA's Wawaloli Beach Park. Coming from the north turn right on to OTEC (Makako Bay) Rd. just after 94mm.  Coming from the south go past 94mm to the light at Kaiminani Dr. then turn left and take Kahilihili St. back south to OTEC Rd. The gate is open from 6:00 am to 8:00 PM daily.  A hike leader will be at the picnic tables before 8:00 am, so come early to prepare for the potluck/hike.  For those who want to start the New Year with a little exercise, the optional beach hike north toward Makako Bay begins promptly at 9 a.m. We plan to be back at the picnic area at 10:00. Bring appropriate closed toe shoes for the hike.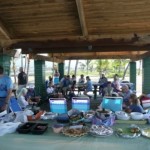 POTLUCK ITEMS:
At 10 a.m., the food and drink will begin in earnest (assuming that the non-walkers haven't consumed it all while we're gone). Please bring a pupu or breakfast or lunch dish to share.
AND DON'T FORGET TO BRING:
Your beverage of choice in whatever quantity you plan to drink.
A serving spoon/fork for your potluck item.
We like to keep our potluck more environmentally friendly so we are asking that you bring your own plates, cups, forks and spoons.  We will have some plates, etc. available in case you forget.  The Club leaders will provide napkins and a hand washing station.
We can always use a few extra table cloths to cover the picnic tables.
You may want to bring a folding chair, as seating at the picnic tables may be in short supply.
HELP US OUT:
We'll again be having a suggestion box, so why not give some thought in advance as to what you'd like to see YOUR Club do next year? If you've told us about a particular hike you want to do, we may have forgotten it (especially if you told us on the trail and we didn't write it down). Also, if you have any ideas about how we do things that you'd like us to think about, please let us hear them — we even encourage constructive criticism!
A hui hou,
Kathleen
RSVP to konahikingclub@gmail.com
KHC
PLEASE NOTE: All members are welcome to bring guests or pass on information about our hikes to other hikers. However, if you do so, PLEASE make sure that you direct them to the Kona Hiking Club website to review the hike announcement and description. We want to make sure that everyone is prepared for the specific hike we are doing that day, whether we're facing mud, heat, cold, steep trails, rocky trails, high altitude, exceptionally long distances, etc. Mahalo for helping us keep everyone safe!