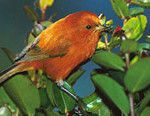 Volunteer at Hakalau National Wildlife Refuge, May 9-10.
Kona Hiking Club is joining with Ellen Jacobs (EJ) in helping to restore this beautiful refuge.
Here's a great opportunity to spend a weekend on the slopes of Mauna Kea, in the Hakalau Forest Reserve, working on a reforestation project. UPDATE! Prepare for wet and chilly weather.  Bring boots,rain gear, sun protection, warm clothes, gloves, binoculars, sleeping bag and daypack.  Fee for central commissary.
On Saturday, we'll carpool (4WD preferred) to the reserve, sharing expenses, and work the remainder of the day on the reforestation project. We'll spend the night in the cozy bunkhouse, with all the comforts of home (full kitchen, hot water, comfortable bunk beds).
Sunday is our day for birding and visiting in the reserve. Please contact E.J. at emjacobs2001@yahoo.com for more information.
Check out the Hakalau Refuge website:
http://www.fws.gov/refuge/hakalau_forest/