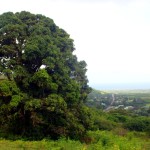 On Saturday, March 12, we will visit Haao Springs in Waiohinu.  This will be about a 7+ mile hike with shuttle.  Our hike will take us to a spring with a view overlooking Waiohinu "Shining Waters".  We will start in a forested area near 68mm and hike about 3 miles on a forested 4WD road where we will connect with a paved road to the spring.  The top of this road is one of the few places on the island from which you can see both sunrise and sunset on a clear day. At the springs we will stop for lunch/snacks, then continue down the steep partially paved road with scenic views of the entire Ka Lae (South Point) area and end at Highway 11 near the 66mm.  Since we are shuttling I need everyone to RSVP if planning to join us.
We will meet at the Kiolakaa Ranger Station on Kiolakaa Rd. at 8:00 a.m.  Please call for directions. 
The weather is typically comfortable with shade in the forest, but warmer and muggy with very little shade on the downhill partially paved road. Hikers should wear closed toed shoes, carry hiking sticks and bring at least two liters of water, snacks, and sunscreen.  Also, consider bringing a pair of binoculars.
For additional information, contact Kathleen Johnson at 557-9246. or email: konahikingclub@gmail.com
PLEASE NOTE: All members are welcome to bring guests or pass on information about our hikes to other hikers. However, if you do so, PLEASE make sure that you direct them to the Kona Hiking Club website to review the hike announcement and description. We want to make sure that everyone is prepared for the specific hike we are doing that day, whether we're facing mud, heat, cold, steep trails, rocky trails, high altitude, exceptionally long distances, etc. Mahalo for helping us keep everyone safe!