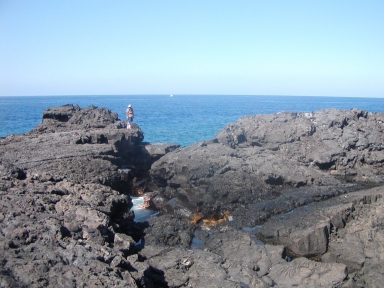 On Saturday, March 20, 2010, the Kona Hiking Club will hike one way along the Kona shoreline from Honokohau Harbor to the Old Airport. The hike covers about five miles of rough, but very interesting and unique terrain. A swim and picnic lunch will be possible at the completion of the hike.
Visitors as well as residents are invited to participate in this outing and there is no charge. Hikers will meet and park at the north side of the Old Airport at 8:30 a.m. and carpool to the Honokohau Harbor to start the one way hike. The trail is over rough lava, so wear good hiking shoes. Hikers need to be prepared for potentially warm, sunny weather, so carry at least two quarts of water per person and use sun protection.
For additional information, please phone Steve at 990-7716.
PLEASE NOTE: All members are welcome to bring guests or pass on information about our hikes to other hikers. However, if you do so, PLEASE make sure that you direct them to the Kona Hiking Club website http://www.konahikingclub.com/ to review the hike announcement and description. We want to make sure that everyone is prepared for the specific hike we are doing that day, whether we're facing mud, heat, cold, steep trails, rocky trails, high altitude, exceptionally long distances, etc. Mahalo for helping us keep everyone safe!