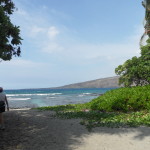 Kona Hiking Club will hike from Pu'uhonua o Honaunau to Ke`ei Beach on Saturday, January 20. This will be a relatively easy, one-way, 4.5 mi. hike on a portion of the Ala Kahakai Trail recently cleared by a few concerned citizen volunteers from the  area.
This will be a coastline (although not necessarily shoreline) hike, and warm weather should be anticipated with some shaded areas. The hiking surface will be wide and relatively smooth dirt and rock. There are no significant climbs.
Each hiker should carry a minimum of 2 liters of water, wear a hat and hiking boots or closed-toe shoes, carry a hiking stick, use plenty of sunscreen, and bring any snacks or food you may desire.  Consider bringing a lunch to either eat at Ke`ei Beach or Pu'uhonua o Honaunau.
Hikers should meet at 8:00 am at the Pu'uhonua o Honaunau National Historic Park parking lot and from there we will organize the carpool/shuttle drivers for staging at Ke`ei Beach. Please keep in mind that admission to the Park will be charged unless the driver or a passenger of the vehicle has a park pass.
Anyone wishing to carpool may meet at the Lanihau Shopping Center in the vicinity of Daylight Mind at 7:00 am and depart by 7:15 am. Please park well away from the businesses. Carpoolers are encouraged to contribute toward the cost of gasoline.  A hike leader will not be present at the carpool location.  Be prepared to organize your own carpool, if necessary.
Visitors and guests are invited and anyone choosing to attend should be provided with a copy of this hike description so they will know what to expect and be properly prepared. They should also be referred to this website (www.konahikingclub.com) for complete safety information.
If you have any questions and for RSVP, please call Kathleen at 557-9246 or RSVP to konahikingclub@gmail.com