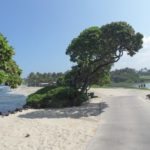 The Kona Hiking Club will take a shoreline hike to Kona Village Resort on Saturday, April 19. The hike will be approximately 4 – 6 miles in length roundtrip (out and back), over mostly sandy shoreline for the first 2 miles.  An extended one mile hike  (2 mile roundtrip) will be offered for the more adventurous that want to continue along the rocky shoreline to more sandy areas at Ka`upulehu before returning to Kakapa Bay.
We will be hiking along the beaches of Kuki`o and Four Seasons Resorts. Prepare to make the most of the day and enjoy a swim and/or picnic.
Due to limited public parking on a first come first serve basis, participants are asked to carpool from Lanihau Center if possible.  This hike will only be limited by the amount of available parking spaces.
Hikers should expect hot conditions and bring at least 2 liters of water per person, along with sun protection and lunch. Sturdy boots, a hat, and hiking stick are recommended.  No childlren or pets will be allowed.
Visitors as well as residents are welcome to participate, and there is no charge. Participants should meet at 7:00 a.m. at Kapaka Bay parking lot. Driving north from Kailua on Queen Ka'ahumanu Hwy, turn left on Kukio Nui Drive, the first turn after Kua Bay just before 87 mile marker.  Drive to the guard shack and ask for public access to Kakapa Bay.  Follow the public access road toward the ocean.
http://www.satelliteviews.net/cgi-bin/g.cgi?fid=359967&state=HI&ftype=bay
Those desiring to carpool from Kailua-Kona may meet at Lanihau Center, in the vicinity of Buns in the Sun, away from businesses. Carpoolers should meet at 6:15 a.m., be prepared organize themselves if no hike leader is present, and depart no later than 6:30 a.m. Carpoolers are encouraged to contribute toward gasoline costs. For more information, call Kathleen at 557-9246.
PLEASE NOTE: All members are welcome to bring guests or pass on information about our hikes to other hikers. However, if you do so, PLEASE make sure that you direct them to the Kona Hiking Club website to review the hike announcement and description. We want to make sure that everyone is prepared for the specific hike we are doing that day, whether we're facing mud, heat, cold, steep trails, rocky trails, high altitude, exceptionally long distances, etc. Mahalo for helping us keep everyone safe!