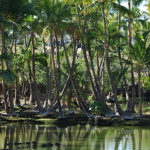 The Kona Hiking Club will do a loop hike from Waikoloa Petroglphs to Mauna Lani and back to Anaehoomalu Bay on Saturday, December 18. The hike will be about 8 miles round trip, over hilly and uneven rocky terrain, sandy beach and golf cart paths.
Near the beginning of the ~4 mile section of the Kings Trail portion of the hike we will view a large petroglyph field. https://www.lovebigisland.com/waikoloa-petroglyphs/
After merging with the Kalahuipuaa Historical Park trail there will be two options for swimming at Mauna Lani, one in a Queen's Bath and the other at the beach.  https://inspiredimperfection.com/adventures/kalahuipuaa-historic-park-and-trails/
We will take time to enjoy the water and some snacks before continuing along the hot shoreline/coastline back to Anaehoomalu Bay.  There are showers at Anaehoomalu Bay. Those who are interested can join us at Lava Lava or another restaurant in the area for lunch.
It's important to have shoes that can handle the lava rock portion of the hike.  
We will meet at the Queen's Marketplace near Starbucks at 8:00 am. Carpoolers can meet at Lanihau Shopping Center near Daylight Mind. Please park away from the businesses. While there is no charge for carpooling, anyone doing so is encouraged to chip in for gasoline. A hike leader will not be at this location unless requested.  Arrive and prepare to leave by 7:00 am.
The weather is typically hot and sunny, although rainy weather though rare is possible as well. Hikers should wear closed toed shoes, carry hiking sticks and bring at least two liters of water, snacks, and sunscreen.
For additional information, contact Kathleen Johnson at 557-9246.
PLEASE NOTE: All members are welcome to bring guests or pass on information about our hikes to other hikers. However, if you do so, PLEASE make sure that you direct them to the Kona Hiking Club website to review the hike announcement and description. We want to make sure that everyone is prepared for the specific hike we are doing that day, whether we're facing mud, heat, cold, steep trails, rocky trails, high altitude, exceptionally long distances, etc. Mahalo for helping us keep everyone safe!